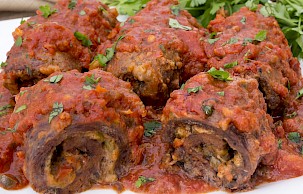 Beef Braciole
with Aunt Mary Ann's Sunday Marinara
Serves: 6
"
">
Ingredients
1 ½ lbs beef top round, thinly sliced into six pieces
salt and pepper to taste
1 red bell pepper
1 green bell pepper
2 bunches green onions
1 bunch fresh parsley
1 cup grated Romano cheese
1 cup bread crumbs
½ cup olive oil
4 large garlic cloves, divided
2 bay leaves
1 cup all-purpose flour
½ cup Madeira wine
½ cup beef broth
2 jars La Famiglia DelGrosso Aunt Mary Ann's Sunday Marinara
8 toothpicks
Notes
Beef can be substituted with pork, chicken, or fish. Try different fillings such as pine nuts, golden raisins, or hard boiled eggs. Madeira wine can be substituted with Marsala wine or Port wine.
Directions
• Preheat oven to 350 degrees.
• Finely chop the peppers, green onions, 2 cloves of garlic and parsley and place in mixing bowl.
• Add the cheese, breadcrumbs, and a pinch of salt and pepper and mix until well blended. Set aside.
• Place the thinly sliced beef on a cutting board and cover with plastic wrap.
• Using a meat tenderizer, pound the meat until approximately ¼ inch thick.
• Uncover the meat and season with salt and pepper.
• Divide the stuffing into six equal parts and spoon mixture evenly over each slice of beef.
• Roll the beef up and insert two toothpicks into each roll diagonally, one at the top and one at the bottom, to hold each roll together during the frying and baking process.
• Heat olive oil in a Dutch oven. Chop remaining garlic cloves, then add garlic and bay leaves to the heated oil and cook for 1 minute.
• Dredge each roll in flour and shake off excess.
• Place the beef rolls in the Dutch oven and brown on all sides.
• Remove the beef rolls and set aside. Discard olive oil.
• Add wine to the Dutch oven and bring to a simmer. After the wine has reduced, add the beef broth and reduce by half.
• Add the marinara sauce. Once this comes to a simmer, add the beef rolls and bake covered for one hour and 30 minutes.
• Remove the toothpicks and serve the braciole with spaghetti and the leftover sauce.