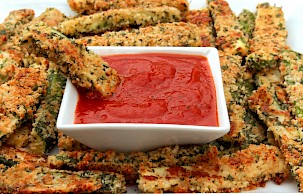 Baked Zucchini Fries
with Chef John's Tomato Basil Masterpiece
Serves: 4
"
">
Ingredients
2 zucchini
2 eggs
1 ½ cups Italian seasoned panko
1 cup grated parmesan cheese
1 cup La Famiglia DelGrosso Chef John's Tomato Basil Masterpiece
salt and pepper to taste
cooking spray
Panko is breadcrumbs made from bread with no crust, making it coarser than regular breadcrumbs. The  amount of panko parmesan blend you need will depend on the size of your zucchini. Fries can also be cooked in a skillet using vegetable oil, which will give you a crispier fry.
Directions
Spray a baking sheet with cooking spray and pre-heat oven to 400 degrees.
Cut zucchini into strips approximately four inches long and one inch wide.
Season with salt and pepper.
Whisk two eggs into a bowl.
Pour seasoned panko and parmesan cheese into a second bowl and mix until well blended.
Dip a zucchini strip into the egg, allowing all the excess egg to go back into the bowl, then dip it into the panko parmesan blend.
Place each zucchini fry onto a baking sheet and bake uncovered for 10 minutes.  Turn each fry over and bake an additional 10 minutes.  Fries should be golden brown.
While zucchini fries are baking, heat sauce in a small pot on medium heat.
Serve zucchini fries on a plate with a small serving bowl of sauce for dipping.