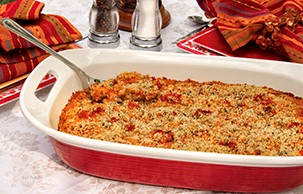 Aunt Cindy's Eggplant Casserole
with Aunt Cindy's Roasted Garlic Gala
Serves: 8
"
">
Ingredients
7 cups eggplant, cubed
1 cup sweet onion, chopped
2 cloves fresh garlic
24 grape tomatoes
2 tsp fresh rosemary, chopped
1 tsp fresh thyme, chopped
6 Tbsp olive oil, divided
1 cup Italian seasoned panko
1 tsp dried basil
1 tsp dried parsley
1 Tbsp butter
1 cup Mediterranean seasoned crumbled feta cheese
1 cup heavy cream
1 cup La Famiglia DelGrossoAunt Cindy's Roasted Garlic Gala
- Salt and pepper to taste
Notes:
7 cups of cubed eggplant is approximately 2 large eggplants or 5 small eggplants. If you cannot find Mediterranean seasoned feta cheese, use your favorite flavor or add your own seasoning to plain feta cheese. Panko is breadcrumbs made with bread with no crust, so it's coarser than regular breadcrumbs and has a crunchy texture.
Directions
• Pre-heat oven to 400 degrees.
• Place tomatoes on a baking sheet. Drizzle 1 Tbsp of olive oil over the tomatoes and add the fresh rosemary and thyme. Season with salt and pepper, and bake at 400 degrees for 20 minutes.
• Melt butter in a small skillet on medium heat and add the panko.  Add the basil and parsley and stir frequently for 2 minutes until the panko starts to turn golden brown. Remove from heat and set aside.
• Remove the skin from the eggplant and cut into 1 inch cubes. Add 5 Tbsp of olive oil to a large sauté pan, and sauté the eggplant and chopped onion on medium heat until soft, stirring frequently. Season with salt and pepper.  
• Add fresh garlic to the eggplant and onion during the last minute of sautéing and stir through.
• Spray a 9x13 baking dish with cooking spray.
• Spoon the eggplant, onion, and garlic into the baking dish.
• Remove the tomatoes from the oven and let cool. Reduce the oven temperature to 350 degrees.
• In a small bowl mix the heavy cream with the roasted garlic sauce and stir through. 
• Place the tomatoes on top of the eggplant, onion, and garlic mixture.
• Sprinkle crumbled feta cheese over the tomatoes.
• Pour the heavy cream and sauce over the feta cheese.
• Sprinkle the toasted panko evenly over the top of the dish.
• Bake the eggplant casserole at 350 degrees for 30 minutes until it starts to bubble around the edges.
• Serve as a main dish with a garden salad or as a side dish to chicken or beef.