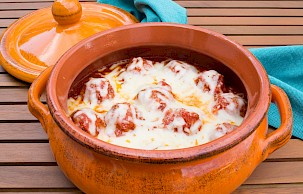 Turkey Meatball Bake
with Abbey's Gluten-Free Turkey Meatballs
Serves: 4-6
Low Carb"
Quick to make
Vegetarian
"> Gluten Free
Ingredients
• 1 bag La Famiglia DelGrosso Abbey's Gluten-Free Turkey Meatballs
• 1 jar Aunt Cindy's Roasted Garlic Gala Sauce
• ¼ cup grated Parmesan cheese
• 1 cup shredded mozzarella cheese
*Notes
After turning to a gluten-free diet, 4th-generation DelGrosso family member Abbey Crider began to miss many of her favorite Italian foods. Our turkey meatballs are inspired by DelGrosso's original 70-year-old recipe, and are perfect for our cousin Abbey and anyone suffering from gluten allergies.  As it turns out, the rest of the family loves the new recipe too! 
Directions
• Pre-heat oven for 350 degrees.
• Pour a small amount of sauce in the bottom of a casserole dish, enough to cover the bottom.
• Place meatballs in a single layer and cover with the remaining sauce.
• Sprinkle Parmesan cheese over the meatballs, then top with mozzarella cheese.
• Cover with foil and bake for 1 hour and 15 minutes.
• Remove from oven and allow 10 minutes to cool.
• Serve with a side of spaghetti and your favorite salad.