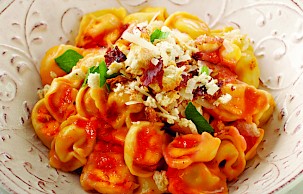 Tortellini With Pancetta In Tomato Basil Cream Sauce
with Chef John's Tomato Basil Masterpiece
Serves: 4
"
">
Ingredients
2 clove garlic, chopped
2 tablespoons olive oil
4 oz. pancetta, small cubes
1 (26 oz.) jar Chef John's Tomato Basil Masterpiece
1/2 cup heavy cream
2 tablespoons chopped fresh Italian parsley
2 tablespoons chopped fresh basil
grated parmesan or Pecorino Romano cheese
1 lb. tortellini, cooked per instructions
Directions
Heat oil in pan and sauté garlic and pancetta until lightly browned.  
Add a jar of Chef John's Tomato Basil Masterpiece sauce along with the heavy cream.  
Simmer for 10 minutes and then add chopped parsley and basil.  
Pour over cooked pasta and sprinkle with grated cheese.