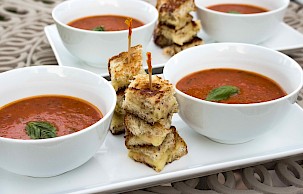 Tomato Basil Soup
with Chef John's Tomato Basil Masterpiece
Serves: 8
Low Carb"
Quick to make
Vegetarian
"> Gluten Free
Ingredients
• 2 Tbsp butter
• ½ cup onions, chopped
• ½ cup celery, chopped
• ½ cup carrots, chopped
• 12 large Roma tomatoes
• 2 Tbsp olive oil
• 1 jar La Famiglia DelGrosso Chef John's Tomato Basil Masterpiece
• 1 quart vegetable stock
• 3 cups fresh basil, chopped
• salt and pepper to taste
Notes
*When roasting tomatoes, the skin may start to come off, but do not discard. All parts of the tomato can be pureed. You can substitute vegetable stock for chicken stock for an enhanced flavor.
Directions
• Heat butter in a medium skillet. Sauté onions, celery, and carrots until soft. Season with salt and pepper to taste.
• Cut Roma tomatoes in half, season with salt and pepper, and drizzle olive oil over the tomatoes.
• Roast in oven at 400 degrees for 20 minutes.
• Place roasted tomatoes and sautéed vegetables in a blender and puree.
• Add pureed vegetables to a large pot.
• Pour one jar of tomato basil sauce into the large pot and add one quart of vegetable stock. Mix until well blended.
• Add fresh basil to the soup.
• Cook on medium low heat for 20 minutes, stirring frequently.
• Serve with grilled cheese skewers.