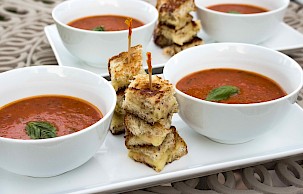 Tomato Basil Soup
with Chef John's Tomato Basil Masterpiece
Serves: 8
Low Carb
Quick to make
Vegetarian
Gluten Free
Ingredients
• 2 Tbsp butter
• ½ cup onions, chopped
• ½ cup celery, chopped
• ½ cup carrots, chopped
• 12 large Roma tomatoes
• 2 Tbsp olive oil
• 1 jar La Famiglia DelGrosso Chef John's Tomato Basil Masterpiece
• 1 quart chicken stock
• 3 cups fresh basil, chopped
• salt and pepper to taste
Notes
*When roasting tomatoes, the skin may start to come off, but do not discard. All parts of the tomato can be pureed. For a vegetarian dish, you can substitute vegetable stock for chicken stock.
Directions
• Heat butter in a medium skillet. Sauté onions, celery, and carrots until soft. Season with salt and pepper to taste.
• Cut Roma tomatoes in half, season with salt and pepper, and drizzle olive oil over the tomatoes.
• Roast in oven at 400 degrees for 20 minutes.
• Place roasted tomatoes and sautéed vegetables in a blender and puree.
• Add pureed vegetables to a large pot.
• Pour one jar of tomato basil sauce into the large pot and add one quart of chicken stock. Mix until well blended.
• Add fresh basil to the soup.
• Cook on medium low heat for 20 minutes, stirring frequently.
• Serve with grilled cheese skewers.