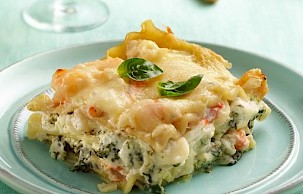 Seafood Lasagna
with Aunt Linda's Classic Alfredo Sauce
Serves: 8
"
">
Ingredients
2 tablespoons olive oil 
2 cloves garlic, minced 
1/2 lb. small shrimp 
1/2 lb. bay scallops 
1/2 lb. canned or fresh crabmeat, chopped 
2 (16.9 oz.) jars Aunt Linda's Classic Alfredo Sauce
1 (20 oz.) container whole milk ricotta cheese
2 cups shredded mozzarella cheese
2/3 cup grated parmesan or Pecorino Romano cheese
2 eggs
2 tablespoons fresh parsley
salt and pepper to taste 
1 lb. package lasagna noodles, cooked and drained
Directions
Heat oil in pan and sauté garlic until lightly browned.
Add shrimp, scallops and crabmeat.
Heat and turn occasionally until shrimp begin to turn pink.
Drain off excess liquid.
Setting aside one cup Alfredo sauce, add remainder to seafood, stir and simmer for five minutes.
In a medium bowl, combine ricotta cheese, mozzarella, grated cheese, eggs, parsley, salt and pepper.
Cover bottom of 9" x 13" baking dish with 1 cup of leftover Alfredo sauce.
Add one layer of noodles, half of ricotta mixture over noodles, and half of seafood mixture.
Repeat process above for second layer.
Cover and bake at 325 degrees for 1 to 1 1/2 hours until top layer has spongy texture.
Remove from oven and let stand for 20-30 minutes before serving.