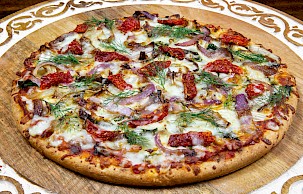 Roasted Fennel & Onion Pizza
with Pappy Fred's Old Style Pizza Sauce
Serves: 4
"
">
Ingredients
1 large fennel bulb, sliced thick
½ red onion, sliced thick
3 Tbsp olive oil
1 12 inch pizza crust
½ cup La Famiglia DelGrosso Pappy Fred's Old Style Pizza Sauce
2 cups shredded mozzarella, divided
1 cup fresh spinach
½ cup sun-dried tomatoes
- granulated garlic to taste
- salt and pepper to taste
- fennel fronds for garnish
Fennel is a bulb that grows above the ground and has a mild licorice flavor and crunchy texture. The feathery leaves resemble fresh dill and can be used as a garnish. Fennel is sometimes referred to as anise, although they are slightly different plants.
Directions
Pre-heat oven to 450 degrees.
Place fennel and onion slices on a baking sheet, drizzle with olive oil, season with granulated garlic, salt and pepper, then toss to coat. Roast for 20-25 minutes until caramelized.
Spoon sauce over pizza crust and top with 1.5 cups of mozzarella and spinach.
Spread fennel, onion, and sun-dried tomato evenly over the spinach, then top with the remaining half cup of mozzarella cheese.
Bake for 10-12 minutes until cheese and bottom of crust are golden brown.
Garnish with fennel fronds.