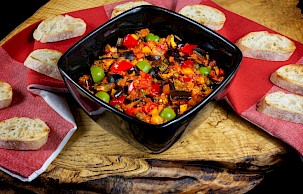 Roasted Eggplant Caponata
with Uncle Jim's Late Night Puttanesca
Serves: 6
"
">
Ingredients
1 large eggplant, cut into one-inch pieces with skin on
1 cup onion, chopped
½ cup red bell pepper, chopped
½ cup yellow bell pepper, chopped
4 Tbsp olive oil, divided
12 Castelvetrano olives, each sliced into four pieces
12 black olives, each sliced into four pieces
2 Tbsp capers, drained
1 ½ cups La Famiglia DelGrosso Uncle Jim's Late Night Puttanesca
Salt and pepper to taste
Castelvetrano are bright green Sicilian olives. Caponata can be made a day ahead and stored in the refrigerator. Additional vegetables can be added such as celery, mushrooms, or tomatoes. Pine nuts can also be added for texture and flavor.
Directions
Pre-heat oven to 400 degrees.
Toss the eggplant with 2 Tbsp olive oil in a large bowl, and arrange in a single layer on a baking sheet.
Season eggplant with salt and pepper then roast until browned, about 20 minutes. Flip halfway through. Let cool then set aside.
Sauté onions and peppers in the remaining olive oil in a large skillet on medium-high heat until soft. Season with salt and pepper.
Add olives, capers, and puttanesca sauce to the peppers and onions and stir through. Heat on medium- low for 10 minutes.
Add the eggplant to the pan and gently mix through. Heat for 1-2 minutes.
Serve caponata as a side dish or spooned over grilled chicken, fish or lamb. Caponata can be served warm or cold over sliced baguette as an appetizer.