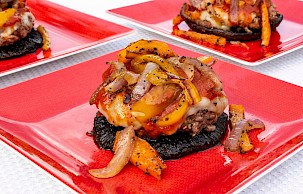 Portobello Bun Burgers
with Uncle Jim's Late Night Puttanesca
Serves: 6
"
">
Ingredients
• 1.5 pounds ground beef
• 6 portobello mushrooms
• 6 slices provolone cheese
• 2 cups onions, sliced
• 2 cups bell peppers, sliced
• ½ cup olive oil
• 1.5 cups Uncle Jim's Late Night Puttanesca Sauce
• Montreal Steak Seasoning to taste
• granulated garlic to taste
• salt and pepper to taste
Notes:
A grill wok is a perforated metal pan that is ideal for grilling foods that may fall through the grate. Try different cheeses such as cheddar, mozzarella, or feta. If you don't have a grill, the burgers can be pan fried and the vegetables can be roasted in the oven.
Directions
• Make six hamburger patties and season with Montreal Steak Seasoning. Set aside.
• Clean mushrooms with a damp cloth and remove stems. Brush with olive oil on both sides, and season with salt and pepper. Set aside.
• Heat sauce in a small pot on low heat.
• Place peppers and onions in a grill wok. Drizzle remaining olive oil, season with salt, pepper, and granulated garlic, then toss to coat vegetables in oil and seasoning.
• Grill peppers and onions on medium-high heat until soft and caramelized. Stir frequently.
• After the peppers and onions have been grilling for five minutes, while the vegetables continue to cook, place the burgers and mushroom caps on the grill. Grill for 4-5 minutes on each side until mushrooms are soft and burgers are no longer pink.
• Melt cheese on the burgers then remove burgers, mushrooms, peppers, and onions from the grill.
• Place each cheeseburger on top of a portobello mushroom and top with sauce, peppers and onions.
• Serve with your favorite side salad.