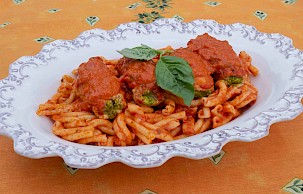 Pesto Chicken Roll-Ups
with Uncle Joe's Vodka Celebration
Serves: 4
Low Carb"
Quick to make
Vegetarian
"> Gluten Free
Ingredients
Pesto Ingredients:
• ½ cup pine nuts
• 5 garlic cloves, chopped
• 5 cups fresh basil leaves
• 1 tsp kosher salt
• 1 tsp freshly ground black pepper
• 1 ½ cups olive oil
• 1 cup grated Parmesan cheese
Remaining Ingredients:
• 2 Tbsp olive oil
• 4 pieces thinly sliced chicken cutlets
• 4 oz fresh mozzarella, sliced and cubed
• 1 ½ cups La Famiglia DelGrosso Uncle Joe's Vodka Celebration Sauce
• salt, pepper, and granulated garlic to taste
*Notes
Leftover pesto can be used as a sauce for pasta, poured over fish, as a topping for pizza, or mixed with Greek yogurt for a great dip!
Directions
• Place pine nuts and garlic in a food processor. Process for 15 seconds.
• Add the basil leaves, salt, and pepper.
• With the processor running, slowly add the olive oil through the top and process until the pesto is smooth.
• Add the Parmesan cheese and process for 30 seconds.
• Pour 1/3 cup of pesto into a small bowl and set aside for roll ups. Cover remaining pesto and store in refrigerator for up to one week.
• Pre-heat oven to 350 degrees.
• Place the thinly sliced chicken cutlets on a cutting board and cover with plastic wrap.
• Using a meat tenderizer, pound the chicken until the cutlets are approximately 1/8 inch thick.
• Uncover the chicken and season with salt, pepper, and granulated garlic.  
• Evenly spoon the pesto on each cutlet, then top with cubed mozzarella.
• Roll each cutlet up and insert two toothpicks into each piece to hold the roll ups together.
• Heat oil in large skillet and brown chicken on all sides.
• Pour ½ cup of vodka sauce into the bottom of a baking dish.
• Place four chicken roll ups over the sauce and pour remaining sauce over the chicken.
• Cover and bake for 25 minutes.
• Remove toothpicks, and serve over your favorite pasta or side dish.