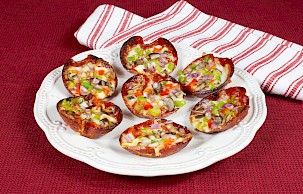 Pepperoni Pizza Cups
with
Serves: 4
Low Carb"
Quick to make
Vegetarian
"> Gluten Free
Ingredients
12 slices sandwich sized pepperoni
½ cup La Famiglia DelGrosso Carl's Pepperoni Flavored Pizza Sauce
1 cup shredded mozzarella cheese
¼ cup red bell pepper, diced
¼ cup green bell pepper, diced
¼ cup red onion, diced
¼ cup mushrooms, diced
1 tsp olive oil
Salt and pepper to taste
You can use these same ingredients and create a completely different presentation by making a pizza that can be pulled apart after baking. Place 8 slices of pepperoni on a baking sheet in the shape of a flower, starting with one piece in the center and the remaining seven placed around the center. Add sauce, cheese, and toppings then bake at 400 degrees for 10 minutes. Let cool, then pull each pepperoni slice apart to serve.
Directions
Pre-heat oven to 400 degrees.
Mix the bell peppers, red onions, and mushrooms in a small bowl. Drizzle with olive oil and season with salt and pepper, then toss to coat the vegetables. Set aside.
Place the pepperoni slices into each section of a muffin tin.
Spoon sauce over each pepperoni slice, sprinkle cheese over the sauce, then add toppings.
Bake for 10 minutes.
Let cool for a few minutes then remove each pizza with a small spoon onto a serving plate.