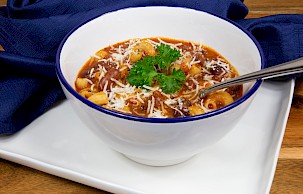 Pasta Fagioli
with Aunt Mary Ann's Sunday Marinara
Serves: 6
"
">
Ingredients
3 Tbsp olive oil
¾ cup sweet onion, chopped
¾ cup celery, chopped
1 jar Aunt Mary Ann's Sunday Marinara
1 quart beef stock
1 cup water
2 15 oz cans kidney beans, drained
1 cup uncooked elbow macaroni
1/3 cup grated Parmesan or Romano cheese
Pasta Fagioli is an Italian soup that translates to pasta and beans. It originated as a pheasant dish composed of very inexpensive ingredients. The matriarch of our family, Mafalda DelGrosso, loved adding mushrooms to her Pasta Fagioli, so feel free to experiment with a variety of vegetables or even meat to add texture and flavor to your soup.
Directions
In a stock pot sauté onion and celery in olive oil over medium heat until translucent. Season with salt and pepper.
Pour sauce into the pot, add water to the jar, place lid back on and shake, then pour excess sauce into the pot. Add beef stock and mix together.
Cook until heated through, then add macaroni.
Add beans and bring to a boil. Simmer for 30 minutes on medium-low.
Serve in large soup bowls and top with grated cheese.