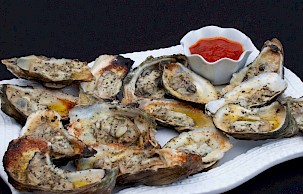 Oysters sur le fleu
with Uncle Fred's Fireworks Sauce
Serves: 3
Low Carb"
Quick to make
Vegetarian
"> Gluten Free
Ingredients
• 18 large oysters, freshly shucked on the half shell
• 2 sticks butter, melted
• 2 Tbsp garlic, chopped
• 1 tsp black pepper
• 1 tsp dried oregano
• ¼ cup grated Parmesan cheese
• ¼ cup grated Romano cheese
• 1/3 cup La Famiglia DelGrosso Uncle Fred's Fireworks Sauce
• 2 tsp fresh parsley, chopped
*Notes
While on a trip to New Orleans to celebrate Fred DelGrosso's 75th birthday, the DelGrosso family fell in love with the chargrilled oysters at Drago's Restaurant. Upon their return home, they immediately duplicated the recipe to share with friends and family, adding just one ingredient… Uncle Fred's Fireworks Sauce! We think you'll agree that this tribute to Fred is the perfect addition!
Directions
• Heat a grill to high heat.
• In a medium bowl, mix butter with garlic, pepper, and oregano. Set aside.
• In a small bowl, mix together the Parmesan and Romano cheeses. Set aside.
• Place oysters on the half shell on the grill.
• With caution, spoon the seasoned butter over the oysters so that some of it will overflow into the grill to create a flame.
• The oysters are ready when they puff up and get curly on the sides, about 5 minutes.
• The last minute of cooking, sprinkle the cheese mixture over the oysters.
• Remove from the grill and spoon a small amount of fireworks sauce on top of each oyster. Garnish with parsley.