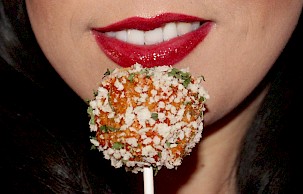 Meatball Pops
with Grandma Murf's Italian Style Meatballs
Serves: 6
"
">
Ingredients
1 bag La Famiglia DelGrosso Grandma Murf's Italian Style Meatballs
1 jar La Famiglia DelGrosso Chef John's Tomato Basil Masterpiece
1 cup panko
¼ cup grated Parmesan cheese
1 tsp dried basil
1 tsp dried parsley
1 tsp garlic powder
1/8 tsp salt
12 four-inch lollipop sticks
Notes
Cooking the meatballs longer than 30 minutes will further enhance the flavor of the meatballs. Panko is a Japanese word for coarse breadcrumbs. If you are making a larger quantity of meatballs, it's best to scoop the panko Parmesan blend with a cup and pour over the meatball pops while twirling to coat all sides. This technique will prevent the unused coating from getting too saucy. You can also substitute Parmesan cheese for Romano.
Directions
• Place meatballs and sauce in small pot on medium heat.
• Bring meatballs and sauce to a boil, then cook on low for at least 30 minutes, stirring every 10 minutes.
• Remove meatballs from pot and place on a plate for 1-2 minutes to release steam.
• Place panko in a small bowl, and add cheese and spices. Mix through until well blended.
• Place a lollipop stick in the center of each meatball going all the way to the other end of the meatball.
• Remove approximately ¼ cup of the panko Parmesan blend and sprinkle on a serving platter.
• Roll each meatball in the bowl of the remaining panko Parmesan blend until well coated.
• Place on your serving platter and enjoy.