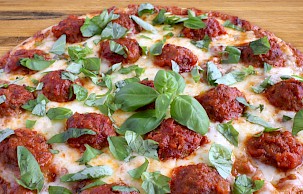 Meatball Pizza
with Pappy Fred's Old Style Pizza Sauce
Serves: 4
"
">
Ingredients
1 12 inch pizza crust
1 cup La Famiglia DelGrosso Pappy Fred's Old Style Pizza Sauce
6 La Famiglia DelGrosso Grandma Murf's Italian Style Meatballs
1 cup shredded mozzarella cheese
1 cup shredded provolone cheese
¼ cup fresh basil, chopped
Notes
You can make your own dough, purchase dough and roll it into a crust, or for a shortcut, buy ready-made pizza crust such as Boboli brand. As you cut each meatball into thirds, you will have two pieces that are curved on the top and one piece that is flat, so place them on your pizza in a way that makes it pleasing to the eye. 
Directions
• Pre-heat oven to 450 degrees.
• Thaw six meatballs and cut them into thirds.
• Cook meatballs in the sauce on medium-low heat for 15 minutes.
• Remove meatballs with a fork, shaking off any excess sauce back into the pan, and set aside.
• Use the sauce from the pan and spread evenly to the outside edge of the pizza crust.
• Sprinkle mozzarella and provolone cheeses over the sauce.
• Place the meatball pieces on top of the cheese, spacing them evenly apart.
• Bake pizza according to crust package directions (typically 450 degrees for 10 minutes)
• Remove pizza from oven.
• Let cool for two minutes then garnish with fresh basil.
• Cut into eight slices and serve.