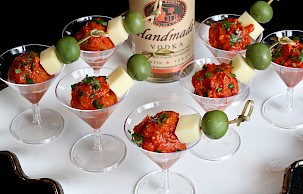 Meatball Martinis
with Uncle Joe's Vodka Celebration
Serves: 20
Low Carb"
Quick to make
Vegetarian
"> Gluten Free
Ingredients
20 La Famiglia DelGrosso Grandma Murf's Italian Style Meatballs
20 2 oz mini martini glasses
20 skewers
20 Castelvetrano pitted olives
20 cubes provolone cheese
1 jar La Famiglia DelGrosso Uncle Joe's Vodka Celebration
¼ cup fresh parsley, chopped
Notes
Serve meatball martinis within 30 minutes of preparing so the meatballs are still warm. If you cannot find La Famiglia DelGrosso meatballs in your grocery store, you can purchase your favorite kind or make your own. Plastic martini glasses can be purchased at most party stores.
Directions
• Cook the meatballs in Uncle Joe's Vodka Celebration on low heat for one hour. Stir every 10 minutes to prevent sauce from burning.
• Place an olive and piece of cheese at the end of each skewer.
• When meatballs are finished cooking, set aside for approximately 15 minutes.
• Spoon a small amount of vodka sauce into each martini glass. 
• Insert a meatball onto the bottom of each olive and cheese skewer.
• Place each meatball skewer into a martini glass.
• Garnish with fresh chopped parsley and serve.