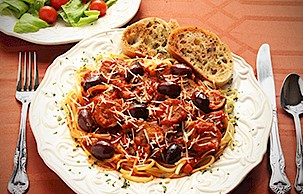 Kalamata Spaghetti
with Aunt Cindy's Roasted Garlic Gala
Serves: 4
"
">
Ingredients
1 pound of spaghetti
½ pound sweet Italian sausage
12 oz Kalamata olives (approximately 28 olives)
8 oz package baby bella mushrooms
2 jars of Aunt Cindy's Roasted Garlic Gala
Notes
We typically recommend one jar of sauce for every pound of pasta, but because there are many ingredients added to the pasta, we used two jars of sauce. If the Kalamata olives are in a marinade, remove from the marinade before adding to the sauce. For a richer flavor, sauté the mushrooms in butter and fresh garlic, then add to the sauce. For a vegetarian dish, eliminate the sausage.
Directions
• Cook spaghetti according to package directions.
• Cook sausage in skillet, continuously turning to brown all sides until cooked through.
• Pour both jars of sauce into a pan.
• Add mushrooms and olives to the sauce.
• Slice sausage into ½ inch thick pieces and add to the sauce.
• Stir sausage, mushrooms, and olives until mixed through.
• Continue to cook on medium heat for 10-15 minutes, stirring occasionally.
• When spaghetti is cooked, drain and place in a pasta bowl.
• Spoon sauce with sausage, mushrooms, and olives over the spaghetti.
• Serve with garlic bread and tossed salad.