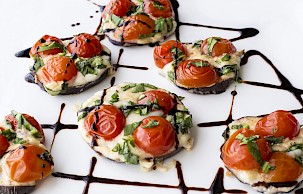 Eggplant Alfredo Pizzas
with Aunt Linda's Classic Alfredo Sauce
Serves: 4
Low Carb"
Quick to make
Vegetarian
"> Gluten Free
Ingredients
1 medium sized eggplant
1/2 cup La Famiglia DelGrosso Aunt Linda's Classic Alfredo Sauce
1 cup shredded mozzarella cheese
10 cherry tomatoes
1/3 cup fresh spinach, finely chopped
1-2 Tbsp balsamic glaze
salt and pepper to taste
Notes
Eggplants are not uniform, so some slices are small, while others are large. Baby eggplants tend to be more uniform and are the perfect bite size pizzas. If you are using a larger eggplant, you may need to increase your quantity of ingredients. Balsamic glaze is balsamic vinegar that has been reduced, therefore is thicker and sweeter. It can be found in stores with the balsamic vinegars or you can make your own. Try different toppings such as sweet peppers, hot peppers, sun dried tomatoes, sauteed onions, or fresh basil.
Directions
• Cut eggplant into slices approximately 1/3 inch thick.
• Prepare a baking sheet with cooking spray to prevent eggplant slices from sticking.
• Place eggplant slices on baking sheet and season with salt and pepper.
• Spoon a small amount of Alfredo Sauce on each eggplant slice and top with mozarella cheese.
• Slice each cherry tomato in half or into thirds, depending on the size, and place on top of cheese.
• Top each eggplant pizza with spinach and bake at 400 degrees for 8 minutes.
• Place eggplant slices on a serving platter and drizzle with balsamic glaze.