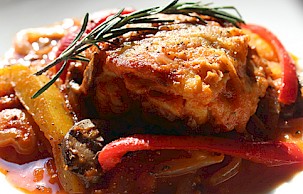 Chicken Cacciatore
with Aunt Mary Ann's Sunday Marinara
Serves: 6
Low Carb"
Quick to make
Vegetarian
"> Gluten Free
Ingredients
6 chicken thighs
1 cup flour
4 Tbsp olive oil
2 sweet onions, sliced
1 red bell pepper, sliced into thin strips
1 yellow bell pepper, sliced into thin strips
16 oz white mushrooms
1 cup dry white wine
1 jar of La Famiglia DelGrosso Aunt Mary Ann's Sunday Marinara
2 sprigs of fresh rosemary
2 sprigs of fresh thyme
1 bay leaf
Kitchen twine
Salt and pepper to taste
Chicken breasts can be substituted for thighs. Instead of making a bundle of herbs, the rosemary and thyme can be chopped and added to the dish.
Directions
Season the chicken with salt and pepper. Dredge in flour and shake off the excess.
Heat oil on medium high heat in a large deep pan or dutch oven.
Brown the chicken for 4-5 minutes on each side.  Remove from pan and set aside.
Decrease the heat to medium. In the same pan, cook the onions until soft. Stir frequently so they don't brown. Season with salt and pepper to taste.
Add the garlic, stir through, and cook for 1 minute.
Add the sliced peppers and mushrooms and cook for 5 minutes until all the vegetables are soft, stirring every 1-2 minutes. Season with salt and pepper to taste.
Increase the heat to high and add the wine.  Cook until the liquid reduces by half, then decrease the heat to medium.
Add the jar of marinara sauce.  Pour a small amount of water into the bottom of the jar, place the lid back on and shake until mixed, then pour the excess liquid into the pan.
Place the chicken back into the pan. Be sure the sauce covers the chicken.
Wrap a piece of twine around the sprigs of rosemary and thyme.  Place the herb bundle in the pan along with the bay leaf.
Place a lid on the pan and cook the chicken for about 30 minutes on medium heat until the chicken is no longer pink.
Remove the herb bundle and bay leaf.
Serve each piece of chicken topped with the vegetables and sauce.