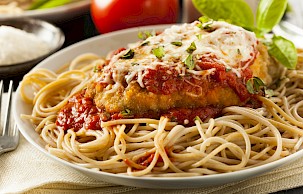 Aunt Mary Ann's Chicken Parmesan
with Chef John's Tomato Basil Masterpiece
Serves: 6
"
">
Ingredients
6 pieces chicken cutlets
2 eggs, beaten
1 cup plain bread crumbs
¼ cup fresh parsley, chopped
3 tablespoons olive oil
6 slices mozzarella cheese
2 cups Chef John's Tomato Basil Sauce
salt, pepper, and garlic powder to taste
Parmesan cheese and fresh parsley to garnish
*Pounding the meat to tenderize will allow the chicken to cook evenly and make it tender and juicy. If you do not have a tenderizer, you can use the bottom of a small pan or rolling pin to pound the meat. If you do not want to do this step and your chicken is thicker, you need to adjust your baking time. You can use sliced or shredded mozzarella for this dish. This is not fresh mozzarella, it is dried and can be found in your grocery deli.
Directions
Place three pieces of chicken on a cutting board, cover with plastic wrap, and pound the chicken with a meat tenderizer to 1/3 inch thick. Repeat for the other three pieces of chicken.
Season chicken with salt, pepper, and garlic powder on both sides.
Add parsley to the breadcrumbs, mix through, and place in a large shallow bowl for dipping.
Place beaten eggs in a second bowl for dipping.
Dip each piece of chicken in the egg, letting the excess drip off, coat with breadcrumbs, and set aside.
Pre-heat oven to 325 degrees.
Heat sauce in a pan on medium heat.
Heat frying pan with oil on medium-high heat.
Brown chicken for 2 minutes on each side. Do not cook all the way through.
Place half the sauce in the bottom of a 9x13 baking dish enough to cover the bottom of the dish.
Place each piece of chicken over the sauce and top with sliced mozzarella.
Cover dish with aluminum foil and bake for 20 minutes.
Right before the chicken is done, re-heat the remaining sauce on medium heat.
Remove the chicken from the oven and top with sauce.
Garnish with grated Parmesan cheese and fresh parsley.