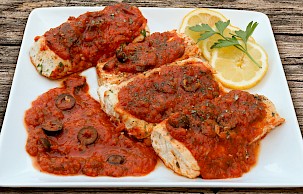 Alaskan Halibut Puttanesca
with Uncle Jim's Late Night Puttanesca
Serves: 4
Low Carb"
Quick to make
Vegetarian
"> Gluten Free
Ingredients
4 halibut filets, 8 ounces each
2 Tbsp butter
1 Tbsp canola oil
¼ cup dry white wine
- La Famiglia DelGrosso Uncle Jim's Late Night Puttanesca Sauce
- salt and pepper to taste
• Cooking time will depend on the thickness of your filets. Halibut can also be grilled or baked. Other white fishes that could be substituted for halibut are sea bass, cod, or haddock. Uncle Fred's Fireworks Sauce would also be a great sauce for this dish.
Directions
• Heat puttanesca sauce in a small pot on medium low.
• Season halibut with salt and pepper to taste.
• Melt butter and canola oil in a large sauté pan on medium high heat.
• Cook halibut for 4-5 minutes until golden brown on bottom then flip over.
• Cook halibut for an additional 2 minutes.
• Increase the heat to high and add wine. Cook for one minute.
• Remove halibut from heat.
• Spoon puttanesca sauce onto a platter, lay fish over the sauce, and spoon more sauce over the fish. Garnish with fresh parsley and lemon slices.